Learn English Online with MyTime English
Learn English Online with MyTime English!
Northstar College's Online Self-Study English language program hosted by National Geographic Learning.
Learn English Online MyTime ENGLISH (MTE) is a 4-level General English course with Placement Test and Extra Practice Activities.
All you need is a laptop with Internet to start learning English online.
You are placed into the appropriate level by a 51-question adaptive placement test.
You spend between 30-60 hours in each level.
There is over 300 hours of content:

180 videos that bring the language to life, engage learners, and practice listening comprehension skills;
Over 200 animated grammar presentations that teach grammar in real contexts to support and motivate self-directed learners;
400+ speech recognition activities, which provide automatic feedback to the user.

At the end of each lesson, unit, and level, you receive a summary page.
At the end of the course, you get a digital certificate.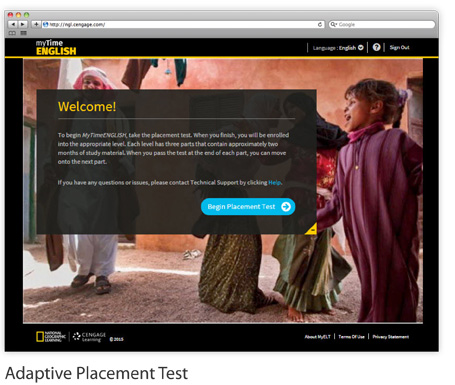 ---
$120 for the complete course
---
Start Learning Today!
Complete the form below and one of our team members will contact you as soon as possible to complete the payment and send your login information so you can Learn English Online today!
---
Information for Registered Students

MyELT Learning Management System
User Guide
Frequently Asked Questions (FAQs)
Scope and Sequence
System Requirements for MyELT
Windows 7 /Service Pack 1 & 2
Internet Explorer 9/10/11
Firefox Latest Version
Chrome Latest Version
Macromedia Flash Player 18
Windows 8 / 8.1
Internet Explorer 10/11
Firefox Latest Version
Chrome Latest Version
Macromedia Flash Player 18
Windows 10
Microsoft Edge Latest Version
Firefox Latest Version
Chrome Latest Version
MAC
OS X 10.9 and higher
Firefox Latest Version
Safari Latest Version
Chrome Latest Version
Macromedia Flash Player 18
iPad 2 / iPad 3 / iPad 4 / iPad Air
iOS 7 and higher
Safari Latest Version
Chrome Latest Version
Android 4.3 / 4.4 / 5.0
Chrome Latest Version
Firefox Latest Version